The most awaited Digital Marketing learning event is back.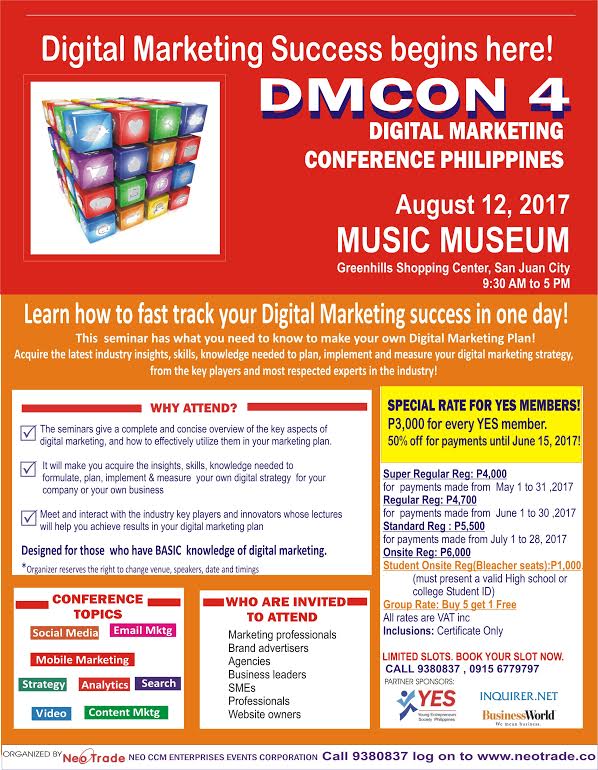 Neotrade is giving a SPECIAL RATE for YES PHILIPPINES MEMBERS to be delegates of The DIGITAL MARKETING CONFERENCE PHILIPPINES 2017 or DMCON4, to be held August 12, 2017, at the Music Museum In Greenhills, San Juan.
Since YES PH is a supporting sponsor of this event, Neotrade offers YES MEMBERS a special rate of P3,000 for each member who will join the seminar. Original walk in rate is P6,000.
The Digital Marketing Conference Philippines is a seminar thoughtfully designed to make marketers learn and get ahead with Digital Marketing all in one day.
It brings to fore updated industry insights, skills, knowledge needed for marketers to plan and implement their own digital marketing strategy.
It gathers eight (8) most respected digital marketing experts in the industry to share their knowledge on digital marketing.
It is designed for all who have basic knowledge of digital marketing.
Topics covered are STRATEGY AND PLANNING, ANALYTICS, VIDEO,
SOCIAL MEDIA, SEARCH, MOBILE MARKETING, EMAIL MARKETING & CONTENT MARKETING.
Resource speakers are: KanKan Ramos Lim, COO, Arriba Digital; Laszlo Miguel Lim, Managing Partner, Digital Endeavors, Inc. ; Ashok Patro, VP, To The New (Singapore); Raymon Cayabyab, COO, Mobext; Bernard San Juan, General Manager, True Logic Online Solutions; Alex Jusay, CEO, Medialex; Nix Eniego, Marketing Head, Sprout Solutions; Roxi Lim, Marketing Consultant, Kalibrr.
Invited attendees are Brand Officers, Entrepreneurs/SME's the Academe, Professionals BPO sourcing & marketing personnel, Government personnel Marketing specialists, Advertising agencies,  Business leaders, Website owners and Students.
The seminars will give a complete and concise overview of the key aspects of digital marketing, and how they can be effectively utilized in the marketing plan.
The objective is that by the end of the seminar, participants will be ready to formulate their own digital strategy for their company or business.
Students are highly encouraged to join the conference. Student rates are at P1,000 only (regular rate).
All YES members must be reserved/registered by May 31, 2017, and all payments must be in by June 15, 2017, to be eligible for the special rate.
For registration and further details, please log on to www.neotrade.co or call 9380837 or 09156779797 or email neotrade168@gmail.com
Facebook page: Neotrade Events