Are you ready to bring your business to the next level?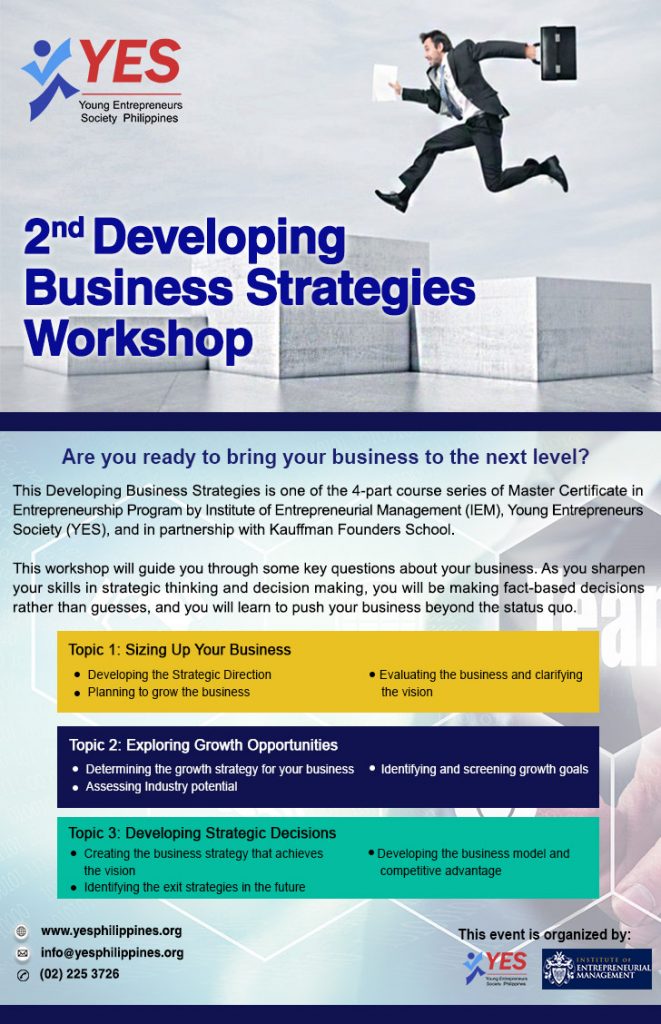 This Developing Business Strategies is one of the 4 part course series of Master Certificate in Entrepreneurial Management Program by Institute of Entrepreneurial Management (IEM) and Young Entrepreneurs Society (YES).
This workshop will guide you through some key questions about your business. As you sharpen your skills in strategic thinking and decision-making fact-based decisions rather than guesses, and you will learn to push your business beyond the status quo.
Learning Benefits
Assess their abilities as entrepreneurs.
Evaluate the viability of a business idea.
Create a business concept and plan.
Define strategies for establishing and marketing a business.
Analyze pricing for a product or service.
Understand capital needs and financial statements.
Learn from real-life entrepreneurs who will share their tips and experiences.
Receive Master Certificate in Entrepreneurial Management from Institute of Entrepreneurial Management
Testimonials:
"The program gave me an overview of the steps I should be taking to start a business idea. Our resource speaker showed a practical and realistic way of how to get started a companied by the learning materials provided by Institute of Entrepreneurial Management."
– Marice E. Mercado
"My first day of class, I found it very interesting. I learn a lot of new things and learn a lot of new ways to start and growing business. The speaker makes the class lively and gives me a lot of new ideas. The time spend on each season is very good. The class is on time, meaning all that I learn is fresh in my mind when the class ends. The course makes me want to start my business now."
-Sheena V. Reveala
Student
Cavite State University
---
Details


Date: March 31, 2017
Venue: YES HQ, East Tower, PSE Center, Ortigas, Pasig City
Organizer: Young Entrepreneurs Society
Organizer: Institute of Entrepreneurial Management
Tell your friends: