BusinessWorld's SparkUp to host 1st SparkUp Summit on May 12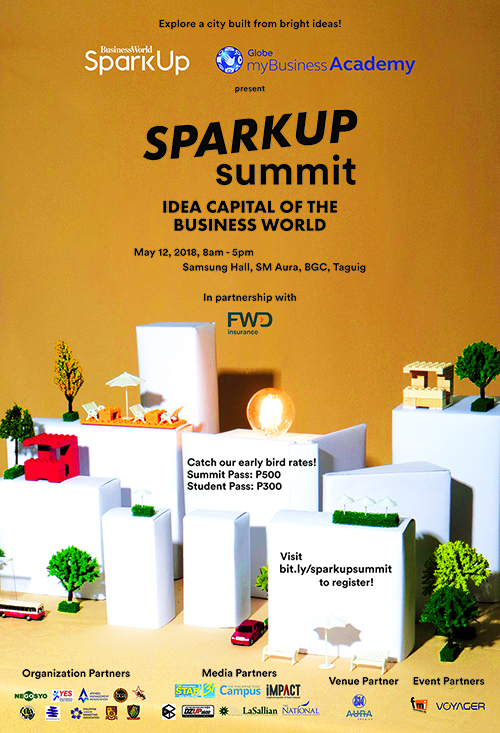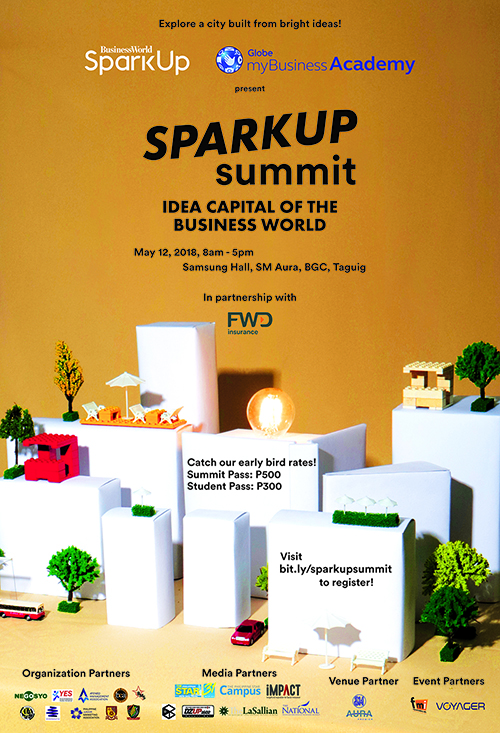 BusinessWorld, the country's most read and most respected business newspaper, will gather the biggest names in Philippine entrepreneurship for its SparkUp Summit to be held on May 12, 8 a.m. to 5 p.m., at the Samsung Hall, SM Aura in Bonifacio Global City, Taguig.
SparkUp (sparkup.ph), the first and only multimedia publication to cater to the aspirations of the young Filipino business community, is BusinessWorld's interactive online platform for creative reports and insights, features on start-ups, innovation, e-commerce, financial awareness, social responsibility, and product design — topics that spark curiosity and inspiration among a new generation of entrepreneurs.
The annual SparkUp Summit's goal is to gather the brightest visionaries in the local business scene to share their insights on the changing landscape of Philippine business: from the challenges and opportunities in different industries, to the latest trends and opportunities relevant to entrepreneurs.
To inspire and empower the attendees, SparkUp Summit puts the spotlight on the thriving business community, the progressive start-up ecosystem, and the future industry leaders through an immersive learning experience.
The SparkUp Summit, with the theme "Idea Capital of the Business World", aims to create a destination for the next big business ideas that will pave the way for a brighter economy for the Philippines.
Through a simulation of a city's central business district, the "city" will be filled with up-and-coming businesses led by young and passionate entrepreneurs. Emanating the vibe of their actual counterparts, SparkUp Summit will divide the space of Samsung Hall into four key destinations, each designed to spark creativity and innovation among the young attendees: City Center, Food Park, Lifestyle Lane, and Tech District.
Located at the heart of the city, the City Center will create a space for insightful discussions on entrepreneurship — ranging from business leadership to concept and brand development, social-driven ventures, to innovation and disruption.
The Food Park will feature out-of-the-box food concepts from esteemed food brands. Meanwhile, homegrown retail brands will display their interesting products at the Lifestyle Lane. Finally, at the Tech District, the most cutting-edge tech ventures changing the game in business are featured. Connect with some of the most inspiring start-up founders.
To register and for more information, visit http://bworldonline.com/sparkupsummit.
SparkUp Summit is brought to you by BusinessWorld's SparkUp and Globe MyBusiness Academy.
In partnership with FWD Life Philippines
Organization partners: Young Entrepreneurs Society Philippines, Go Negosyo, Ateneo Management Association, Philippine Junior Marketing Association, The Entrepreneurship Club – FEU Manila, Business Management Society – DLSU Manila, Junior Financial Executives – UE Manila, Society of Thomasian Entrepreneurs, Business Economics Association, and Junior Confederation of Finance Association – Philippines
Media partners: Philippine Star, Philippine Star Campus, iMPACT, DZUP, The LaSallian, The National, and The Benildean
Venue partner: SM Aura Premier
Event partners: Fiera de Manila, Inc. and Voyager Innovations, Inc