ENTREPRENEURSHIP: CellRobot have won the Creative Business Cup Final 2017 with their innovative robot.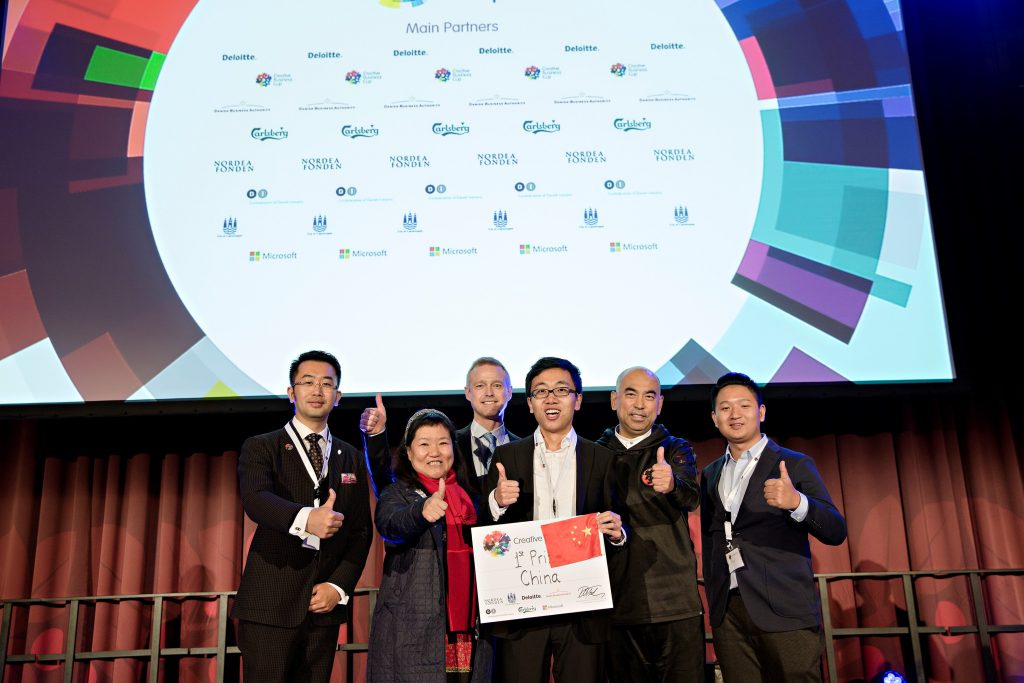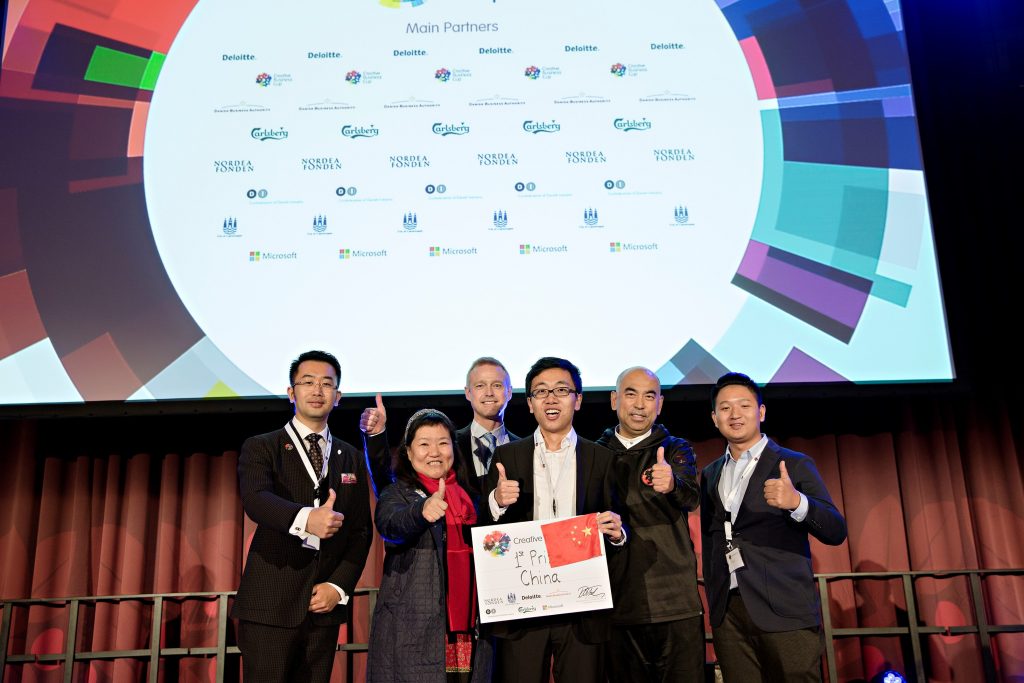 Credits: Creative Business Cup
Entrepreneur teams from 59 countries have been pitching their business ideas to prominent business people and investors in Copenhagen. "Nadya" Tolokonnikova (Pussy Riot), Jeremy Bloom and Scott Halford (award winning producer and writer) were among the keynote speakers of the show. The investor panel included Tugce Ergul (Angel Labs), Alan Greenberg (Wide Academy), David Glick (Edge Investments), Carman Chan (Click Ventures) and Jeffrey Paine (Golden Gate Ventures).
Hotel Scandic and The City Hall of Copenhagen were the venues of The Creative Business Cup 2017.
The winner of the main competition + finalist in the main competition
CHINA: CellRobot:
Just as the cells in our bodies work together to create an organism, CellRobot is made up of single cells that, when combined, build functioning robots. No coding or mechanical engineering knowledge is required to start building. All units connect through a simple but secure twist & snap joint. Because it is so easy to get started, anybody can use CellRobot to create their own high functioning robot. CellRobot gives you the opportunity to learn, explore & create.
The Jury's motivation for choosing CellRobot as the best creative business idea of 2017 is:
"The first prize goes to a company which has provided an ingenious and easy-to-use way of combining problem solving, robotics, coding and education into a fun and interactive activity for schools and children. The beauty of the products is that there are technically no rules on how to combine the elements and how to use it, and the only limit would be your own imagination. We look forward to seeing many more schools take this project on to help children continue to develop new skills. And the jury was especially impressed that they came to Denmark and dared to challenge Lego!
The winner of the first prize is CHINA with CELL ROBOT! Congratulations!"
ICELAND: Genki instruments
Genki Instruments is a hardware tech company focused on merging state-of- the-art technology with great design and a focus on usability. Our first product, Wave, is a wearable ring that allows musicians to interact with technology in a more natural and expressive way than has been possible before. Wave allows musicians to stay in the flow while making music, and the automatic functions of Wave offers a completely new experience when making music by enriching your devices with expressive and natural control. The USP of Wave is the fact that instead of replacing current instruments or technology, it enhances what you already have by enabling natural and expressive communication using technology as well as adding value to the equipment you already use.
The Jury's motivation:
"The second prize goes to a company which combines with deep technological skills combined with a passion for music. They work with state of the art technology, building their solutions from the ground up creating a beautiful user experience. As they say themselves: "When you use our products, they should feel like old friends and at the same time being groundbreakingly new." Not only is this product absolutely wonderful as a tool to develop your musical skills – our judging panel also see a huge value and possibility for this technology in other industries as well. This company has a huge potential, and we look forward to seeing more from them in the future.
The winner of the second prize is ICELAND with GENKI INSTRUMENTS! Congratulations!"
LEBANON: Bildits
Bildits is a miniature building construction kit for kids (12+) that introduces the real process of construction. The user will use the tools provided in the kit to build a scaled model of a building while going through an authentic process covering all the real-life steps such as constructing steel structures, installing formworks, pouring cement, building masonry walls, painting and more. This will provide the user with the opportunity to dream, de- sign and build self-designed models having learned every basic step of the construction procedure provided in the catalog. Bildits is the only product that offers a hands- on, realistic experience of the process of building. Our vision is to provide an educational yet fun experience, which leads the user to genuine insights into construction. Further- more, we aim to build a salable community of Bildits hobbyists around the toy.
The Jury said:
"The third prize goes to a company that offers a concrete and physical way to link up our individual creativity with real life building skills. In a world that is becoming completely overflown with technology it is refreshing to see a company working to re-inject human creativity and hands-on skills back into the young (and not so young!) generations. Their vision is to integrate mechanical and electrical engineering with sustainable construction, through education. "Learning by doing" has a new meaning after this.   The winner of the third prize is LEBANON with BILDITS! Congratulations!"
Rasmus Tscherning, the managing director of Creative Business Cup, is ready to bring Creative Business Cup to the next level. Creative Business Cup has grown from a small-scale show into a global event that attracts important and influential investors, who are focused on creative businesses, and the best creative entrepreneurs around the world. He adds:
"Creative Business Cup is much more than just a competition that creative entrepreneurs want to win. It is a summit for the most creative brains and the most influential investors from around the world who meet in order to create sustainable solutions to some of the world's most important challenges such as welfare, experiences, design and sustainability. We have created an event that puts focus on investment possibilities and that inspires politicians around the globe. Creative Business Cup has grown into a large and unique global network, which is why we launch new initiatives. Among these initiatives is the Creative Business Cup Network. Creative Business Cup is a stepping stone for entrepreneurs who gain access to big parts of the world, international opportunities, access to the best mentors and investors."
Invio Solution
Invio Solution is a Creative Business Cup Challenge where everyone who has developed a new and exciting solution within the experience economy field can participate. The winner of the Invio Solution is Mixtroz who won because of their technology that helps event attendees easily connect with one another. Mixtroz is the winner of the Invio Solution 2017 because:
"The mother and daughter team demonstrated a deft ability to speak in front of any audience, a clear idea and execution of their product and solutions. The team is competent and ideal for this type of business, as is their branding and marketing strategy. Mixtroz creates a new approach with its product, by improving upon the often-dreaded activity of networking.
We hope to see a more playful format by gamifying future networking and take a more creative approach to the product to stand out. With this award, we hope to see Mixtroz become a powerful networking experience. "
Watify
Watify is an EU funded project that aims to help SMEs to implement tech solutions and during Creative Business Cup they found the SME that is the symbol of the digital transformation among SMEs in Europe. The winner of this year's Watify is Ingelia from Spain who won due to their Hydrothermal Carbonisation Technology. The Jury says:
"They had a very clear rationale and a perfect combination of digital and physical technology in their presentation. They have shown a strong commitment to technological transformation and evolution. They are opening opportunities to other global business chains. They tackle key global challenges, such as pollution and waste management. They have recognized and applied elements of the sustainable development agenda for 2030."
eGovernance Solution
eGovernance Solution is an initiative of entrepreneurs primarily from Estonia, a pioneer country in e-commerce, that has proposed a solution within the field and eGovernance. The purpose is to ease the digital work in the public sector. The winner PSII – Personal Sensitive Identifiable Information, had the chance of pitching their e-commerce ideas at the Estonian national Creative Business Cup 2017. The Jury's statement:
"They are building AI based Personal Sensitive Identifiable Information search engine for Governments to ensure the compliance for the new data protection regulation. Governments are obliged to ensure the citizens private data is protected. PSII enables governments efficiently research for private data leakages. By scanning and identifying the sensitive personal data stored in systems and public registers, PSII helps public sector organizations and companies to improve their data hygiene and meet the new GDPR regulation that will soon enter into force."
CBI Pitch
During the Creative Business Cup Investor Pitch, some of the most investable creative entrepreneurs had the chance to present their business ideas in front of a broad range of companies and businesses specializing in creative enterprise investment. The panel were largely impressed by Heartstrings and their presentation of their tool for screening and early diagnosis of coronary heart disease. The Jury's motivation:
"The company has been unanimously selected by the jury who highly recognizes and appreciates the potential of the company's novel solution detecting heart disease: the number one killer around the word. The company will receive as award: EUR 5,000. We wish Heartstring lots of success and to continue its successful adventure winning awards across Europe and Globally. "
Microsoft Special Award
Microsoft Bizspark plus program $25000 credit in azure and the possibility for extensions and help with growing their business. The Jury's motivation:
"The Microsoft Special Award goes to a company that is not only highly creative but allows the users to develop their innovative and creative skills in a new, playful, innovative and different way. The use of machine learning and artificial intelligent to break the boundaries and disrupt the ways of playing music makes GENKI INSTRUMENTS the winner of the Microsoft Special Award. "
Jury Special Mentioning
"We would like to give a special mentioning to Saudi Arabia. We often waste time going to the doctor for minor injuries because we do not have the know how and the tools to take care of ourselves at home or in some cases in the wild. Odai Karsou gives us the power to do this in a fast and safe way. Such a simple concept, but so effective!"
"We would like to have a special mention of Denmark. Waste is one of the key issues in our throw away society today and AM breweries have come up with a great solution. It combines our love for coffee and our need to be more sustainable for future generations. This drink is delicious, healthy and helps small scale farmers' lives. An all round and full bodied concept!"
"We would like to give a special mentioning to Butterfly Technology from Bahrain. Their passion is to turn creative ideas into real products through their support network. We believe that supporting budding entrepreneurs is the key to re-energising a country and bringing it to the forefront of innovation and creativity. We truly hope that they continue in their endeavours and keep working alongside CBC to find the next best startups for the future. "
Prizes and Awards at Creative Business Cup
WINNER OF CREATIVE BUSINESS CUP 2017 – THE WORLD'S BEST CREATIVE STARTUP
First place: EUR 7,000 + 2 months of free office space at any ALLEY – A curated community for Creators, an open membership for the winning startup at either ALLEY, Cambridge MA; ALLEY New York City, NY or ALLEY Washington D.C.
First runner up and Second place: EUR 3,500
Second runner up and Third place: EUR: 1,500
WINNER OF WATIFY SOLUTION
The winner will receive EUR 1,000
WINNER OF INVIO SOLUTION
The winner will receive EUR 1,000
WINNER OF eGOVERNANCE SOLUTION
The winner was selected in Estonia and received the First Prize of EUR 10,000
WINNER OF CREATIVE BUSINESS INVESTOR PITCH
The winner will receive EUR 5,000
WINNER OF MICROSOFT SPECIAL AWARD
The winner will receive the Microsoft Bizspark plus programme
Creative Business Cup  2017 is supported by
Carlsberg
City of Copenhagen
Confederation of Danish Industry
Deloitte
Microsoft
Danish Business Authority
Nordea Fonden
Best Regards
Have Kommunikation
For interviews and further information please contact  
Christian Møller // Presseansvarlig // Have Kommunikation: + 45 2624 0128, cmo@have.dk
Karoline Haulund // Kommunikationsansvarlig // Creative Business Cup: +45 2713 4342, kah@creativebusinesscup.com     
ABOUT CREATIVE BUSINESS CUP
Creative Business Cup is the "world championship" for entrepreneurs within the creative businesses around the world. The Centre of Culture and experience economy field developed the competition and the global edition of Creative Business Cup is a Featured Event in Global Entrepreneurship Week – an initiative by the Kauffman Foundation. Creative Business Cup draws attention to the creative areas as a business and gathers the best creative entrepreneurs from around the world. 59 countries have had national competitions to find the best competitors for Creative Business Cup Global.
ABOUT YOUNG ENTREPRENEUR SOCIETY PHILIPPINES
YES Philippines being the official national partner held Creative Business Cup finals for the Philippines during the annual Startup Summit – the biggest gathering of the best and finest startups in the country!