Challenge Cup Spans Over 50 Cities Around the World to Identify Entrepreneurs Tackling World's Biggest Challenges, Featuring $1M in Funding Opportunities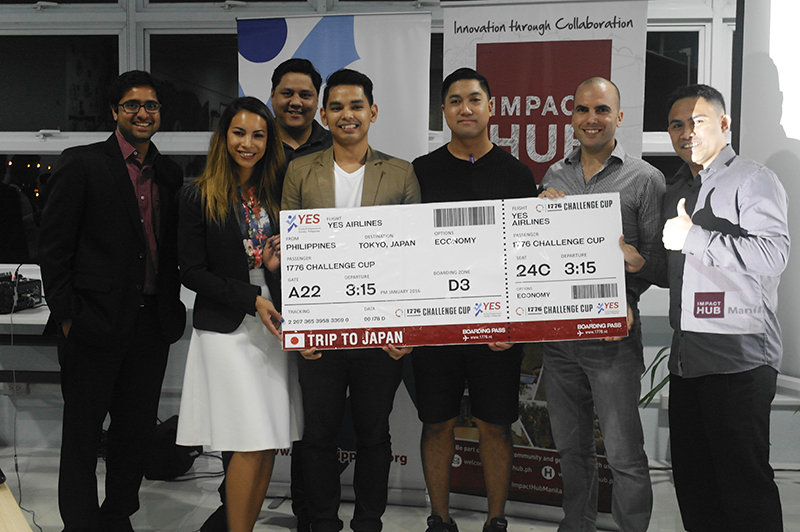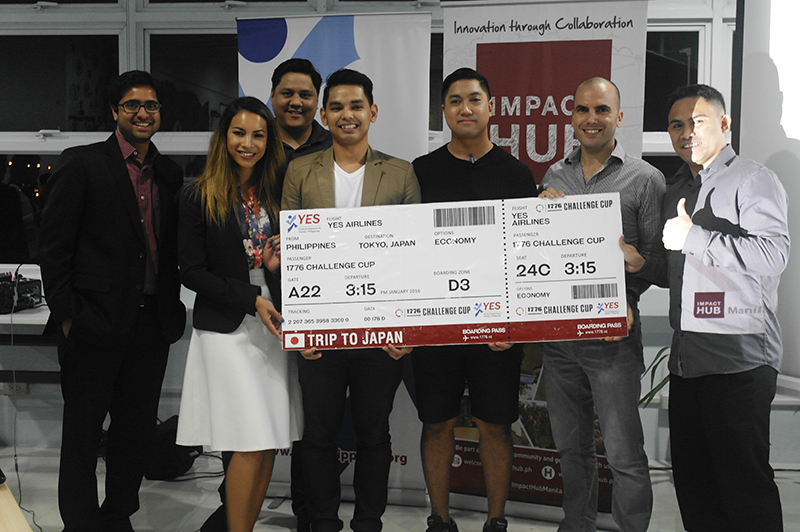 Washington, D.C. and [Manila, Philippines]— Global startup incubator and seed fund 1776 and Young Entrepreneurs Society tonight announced the three Philippines Challenge Cup winners, representing the most compelling local startups tackling the world's most difficult and intractable social challenges. The three winners will move on to the regional competition in Tokyo, Japan where they will compete against other leading startups from across the region for the chance to advance to the global finals competition at the 1776 Challenge Festival in Washington, D.C. in June.
"Philippines is increasingly home to so many inspiring entrepreneurs who are building high-growth startups to tackle big world challenges," said Donna Harris, co-founder of 1776. "We're proud to help give these extraordinary companies an opportunity to present their vision on the global stage and connect to the resources and relationships they need to be successful."
The winners are as follows:
KALLFLY PTE LTD.
 Kallfly is an On-Demand virtual Contact Center marketplace, connecting businesses with experienced home-based call center agents. It is a platform like 99designs, oDesk, and Mechanical Turk, but with freelance call center agents available on demand instead of graphic designers, in the cloud, supported by our SIP and WebRTC-based VoIP infrastructure. Instead of contracting with a traditional call center, businesses can allocate resources through Kallfly's web site. Instead of commuting to an office, call center agents can work from home, using their laptops or phones.
NYFTI INC.
Nyfti Inc. is focused on designing personal mobility solutions. Our first product design is a compact-folding bicycle for the city. Folding bicycles are the best way to get around the city. You dont have to worry about bicycle parking, theft and the rain. You can simple fold them up, store them indoors, or take them on a bus, train or taxi. However, to get the most compact folding bicycle, you will have to spend about $1200-1800 for a steel bicycle that's about decades old in design. Cheaper alternatives are available but are not as compact nor as comfortable to ride as our design.
HORSEPOWER.PH
Horsepower is a FinTech startup company empowers self-employed, freelancers and SMEs on paying bills payment and government contributions online, co-working spaces, Healthcare and Insurance Plans, Accounting and Payroll, Coworking spaces and business consumer products and more.
The event highlights Philippines' vibrant startup community and the contributions its innovators are making in tackling some of the world's most difficult and intractable social challenges. Tonight's winners will advance to the regional competition in Tokyo, Japan. From there, five of the most promising startups will be chosen to join 40 regional winners from across the eight other regional competitions and 45 wildcard winners at Challenge Festival 2016 to compete for $1 million in cash prizes and funding, and connect with mentors, corporate partners, policymakers, and potential investors.
For more information about the Challenge Cup, click here.
ABOUT 1776
1776 is a global incubator and seed fund that finds promising startups focused on solving the world's most fundamental challenges and helps engineer their success.
Just two years old, 1776 has helped more than 250 startups grow by vetting their viability and connecting them to a "swat team" of support, from investors to mentors, government officials, and institutional market partners that they need to succeed.
1776 focuses on startups in the most broken, entrenched industries and sectors that impact millions of lives every day—specifically education, energy, health and cities.
Because solving big challenges in entrenched industries requires a different approach, 1776 is revolutionizing the startup landscape. From its hub in Washington, D.C., it is sparking a global movement of "problem-solving" startups through its Challenge Cup and Startup Federation, the premiere network of incubators throughout the world.
By creating a global community of startups, mentors, partners, and investors, 1776 is proving that its unique approach to incubation can create a sustained cycle of innovation that connects existing enterprises, corporations, and government entities to the startups that are solving the world's biggest problems.
1776 was founded in February 2013 by Donna Harris, a serial entrepreneur and the former Managing Director of the Startup America Partnership, and Evan Burfield, founder of netDecide, a provider of enterprise wealth management solutions, and the consulting firm Synteractive.
ABOUT YES PHILIPPINES
Young Entrepreneurs Society Philippines (YES) is an organization of young entrepreneurs who share a common passion for excellence in business and professional growth. YES Philippines was established to educate, promote, encourage, network, and develop aspiring and successful entrepreneurs. Through a series of engagements with successful business owners and executives, learning events, mentorship and networking opportunities, members of the society learn the crucial elements necessary to become successful entrepreneurs.