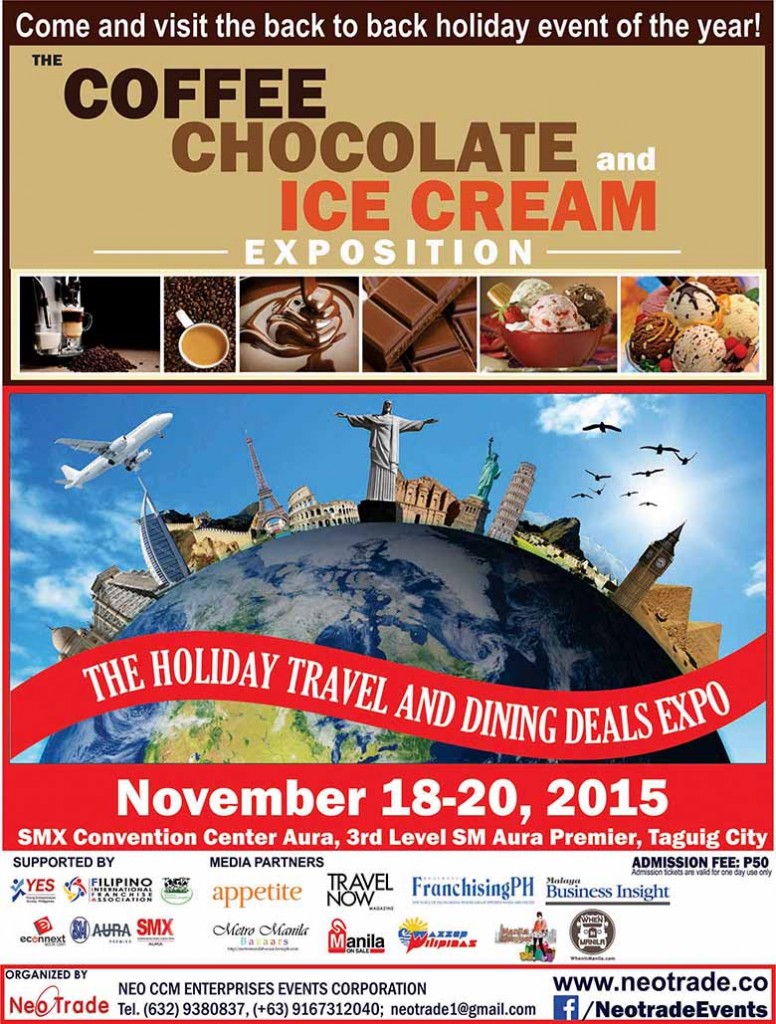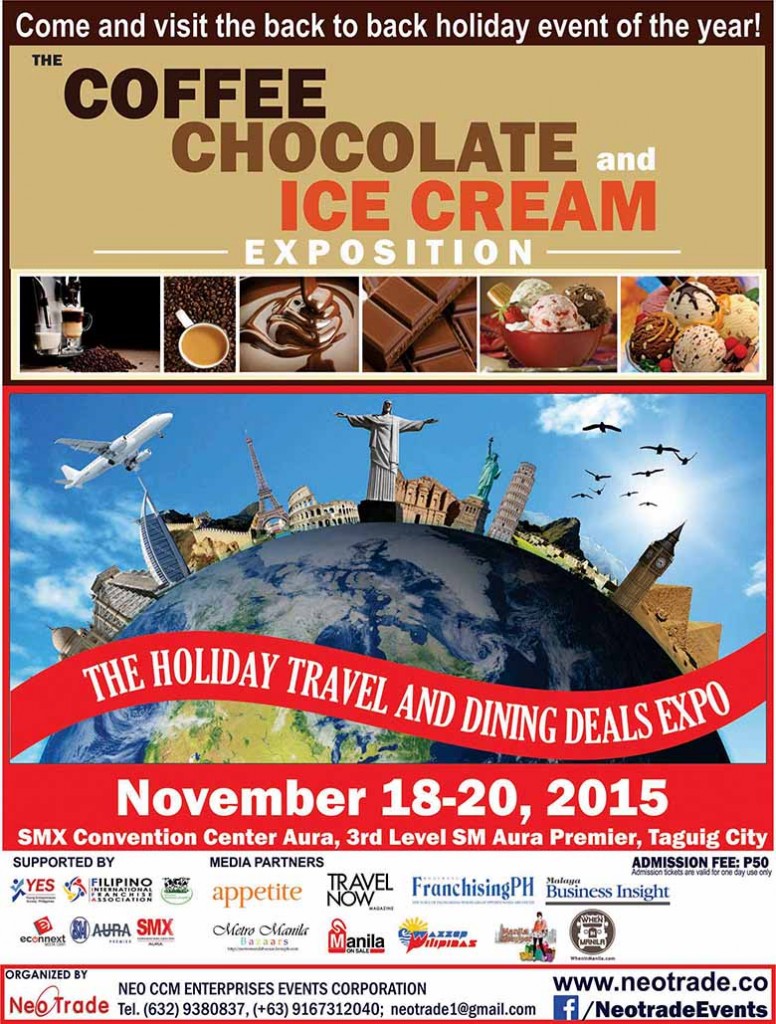 The most prestigious coffee, chocolate and ice cream trade show in the country will happen before the year ends.
The Coffee, Chocolate and Ice Cream Expo will be held on November 18 to 20, 2015 at the SMX Convention Center Aura, 3rd Level SM Aura Premier, Taguig City.
At long last, a trade show exclusively for the coffee, chocolate and ice cream industry has been mounted by NEO CCM ENT EVENTS CORP.
Most of the recent trade show events in the metropolis have featured a good mix of food and beverages.
This specialized expo comes at a time when increased focus on these industries has become a necessity due to the larger demand for coffee, chocolate and ice cream products.
The  Coffee , Chocolate and Ice Cream Exposition is a trade show that accords primary focus on these three main products and brings to fore the most effective platform to showcase the finest local and international coffee, chocolate and ice cream products, bar and café equipment and technologies all under one roof.
The event heralds the onslaught of coffee products, bar/cafe establishments in the country, ice cream shops, chocolate and cacao products and it provides the coffee , chocolate and ice cream industry with a specialized opportunity for trade to launch new products, expand business, and bring together all the major industry players.
Products to be featured in the expo are: coffee, chocolate and ice cream manufacturers, coffee and ice cream machines, vending machines, roasters, blenders, processors, flavoured drinks manufacturers, milk  retailers, retail coffee chains, milk and milk products, chocolate manufacturers, coffee and tea accessories, friends of coffee and tea, ice cream machines, distributors, dealers, manufacturers, and partners.
The event features companies who plan to promote product awareness, launch products, expand via franchising, build a business, and forge new strategic relationships.
Also included are allied activities, demos, tasting sessions which aim to build lasting partnerships, and camaraderie among industry stalwarts.
Expected visitors to the event are coffee , chocolate and ice cream distributors, dealers, retailers, franchisers and franchisees, wholesalers, cafe and bar owners, importers, exporters, hotel suppliers, purchasers, entrepreneurs, packaging agents, F&B caterers, chefs., nutritionists, coffee enthusiasts, chocolate and ice cream lovers.
So coffee, chocolate and ice cream lovers, unite! This event must not be missed.
This event is co-located with the awaited Holiday Travel and Dining Deals Expo which offers the best deals in tourist destinations and in hotels and restaurants all in one roof.
The Filipino's zest for travel is as strong as ever and what better time to showcase the best deals available for rest and recreation to the best travel destinations but this season nearing the holidays!
Also, the event features offers from restaurants and hotels with gastronomic fare that are simply irresistible to miss!
Dont miss these back to back shows and be assured of a unique enjoyable experience.
The Coffee, Chocolate and Ice Cream Expo back to back with the Holiday Travel and Dining Deals is supported by Filipino International Franchise Association, Young Entrepreneurs Society, Hacienda Macalauan, Econext Ideas and Events, Malaya Business Insight, One Mega Group: Travel Now, Apetite, Franchising Magazine, Wazzup Pilipinas, WhenInManila.com, ManilaonSale.com, ManilaShopper.com and Metro Manila Bazaar.
For inquiries, please call NEO-CCM Enterprises Events Corp. at (632) 938 0839 or log on at www.neotrade.co. Like us at www.facebook.com/NeotradeEvents.