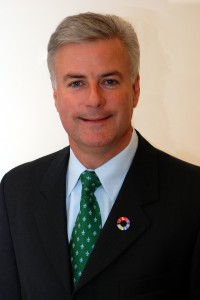 Behind one of the greatest entrepreneurial movements—the GEW and a man of million visions and perseverance is man named Jonathan Ortmans.
Jonathan Ortmans has dedicated his whole professional career to motivate and empower people in addressing the issues eminent at local, national and global levels. Based in Washington, DC, he serves as an interface between research and initiatives to advance entrepreneurship at the Foundation and the questions and concerns that arise from policymakers and other thought leaders in the nation's capital.
At a young age of 19, Ortmans has already established his first business—Microchips. His second business followed when he was 34 just before he started his career on trade policy work at Capitol Hill on the House Ways and Means Committee. Ortmans also worked before as an executive director of the Columbia Institute for Political Research concentrating on health care economic policy.
He is best known as the founding chair of Global Entrepreneurship Week, the world's largest celebration of the innovators and job-creators who launch startups that bring ideas to life, drive economic growth and expand human welfare. Together with Ewing Marion Kauffman Foundation, he established GEW to motivate people around the globe through local, national and global activities. With GEW, he aims to help the people explore their potential as self-starters and innovators.
His persistent outlook and hard work has earned him well as GEW is now being endorsed and supported by renowned personalities such as Richard Branson, Michael Dell, Muhammad Yunus, Mark Cuban, Russel Simmons and world leaders like US President Barack Obama, former US President Bill Clinton, UK Prime Minister Gordon Brown, US Secretary of State Hillary Clinton, former US Secretary of State Colin Powell, Japanese Prime Minister Yukio Hatoyama, Saudi Arabia Prince Abdelaziz Ben Abdulla, French President Nicolas Sarkoz, King of Morocco Mohammed VI and Prince Charles.
GEW is an annual celebration wherein different activities including large-scale competitions and intimate network gatherings connect participants and potential collaborators and investors together in a span of one week every November. GEW aims to inspire people to explore their potential as self-starters and innovators.
Currently he is focused on Global Entrepreneurship Week celebration while serving as a president of the Public Forum Institute, an independent organization that fosters public discourse on essential and major issues today.