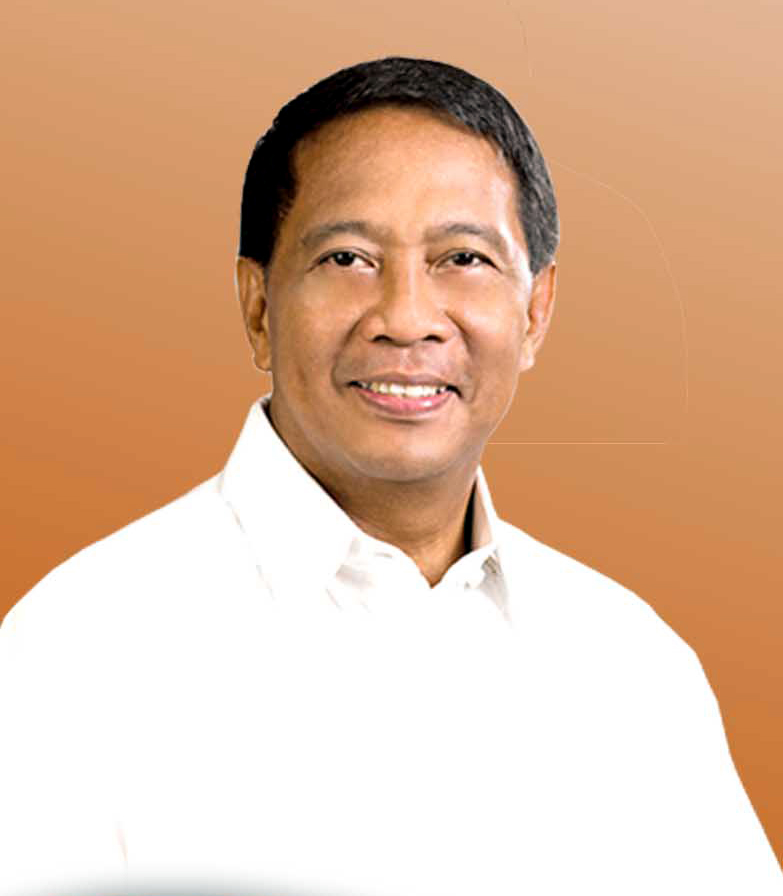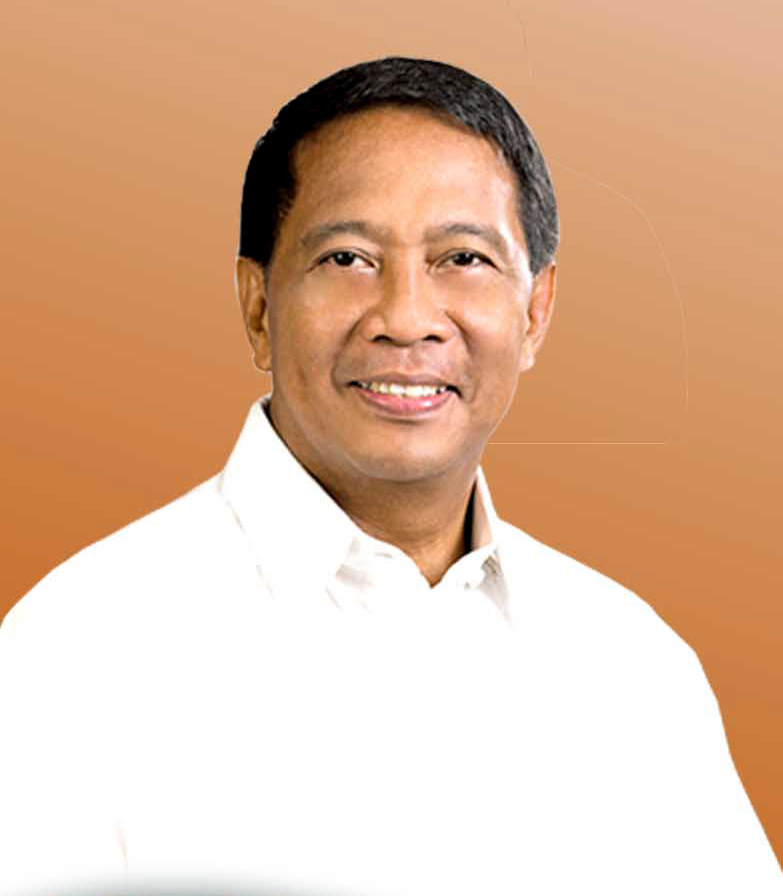 With the opening of celebration of Global Entrepreneurship Week, the Vice-President of the Republic of the Philippines, VP Jejomar (Jojo) Binay, extended his warmest greetings to all Filipino entrepreneurs.
He sent his deepest intention to congratulate the Young Entrepreneurs Society (YES) Philippines, its partners, supporters, sponsors and participants in its effort to cultivate and spread the entrepreneurial spirit in a Filipino for the future of every Filipinos.
According to Vice President Binay, "With the Philippines' serving as a host of the GEW, it marks another milestone for the country in pursuit of a sustained and progressive economic development.", supporting the commitment of Philippines in pursuing business and entrepreneurial advancement and excellence.
The Young Entrepreneur Society is humbly honored to have the vice-presented support the organization and the global celebration. The YES organization is enclosing the full message of the vice-president in the hopes of inspiring fellow Filipinos in embracing the culture and future in entrepreneurship.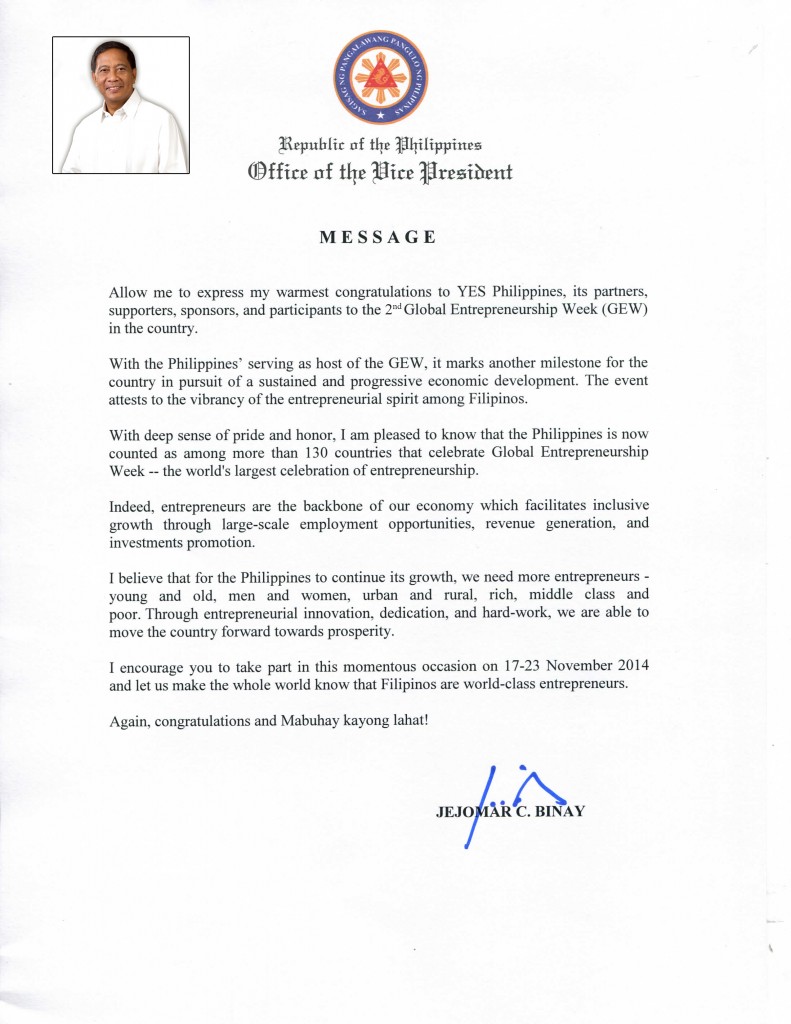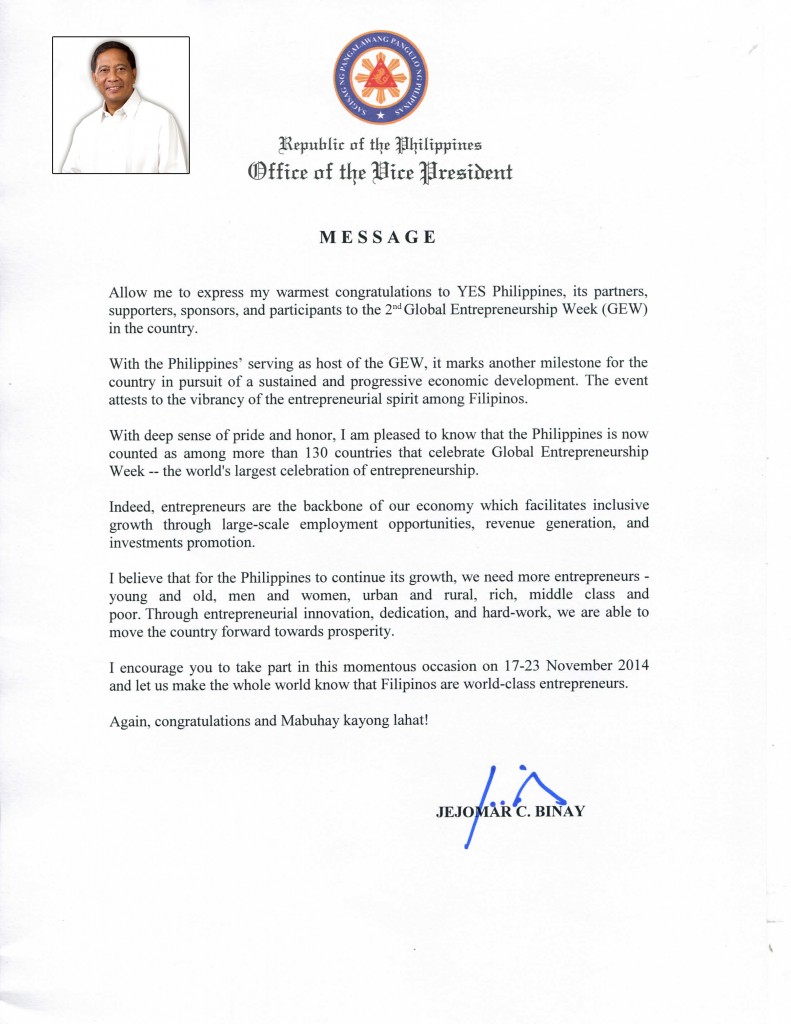 Below is the full text transcript of his message to Filipinos celebrating Global Entrepreneurship Week:
Allow me to express my warmest congratulations to YES Philippines, its partners, supporters, sponsors, and participants to the first 2nd Global Entrepreneurship Week (GEW) in the country.

With the Philippines' serving as a host of the GEW, it marks another milestone for the country in pursuit of a sustained and progressive economic development. The event attests to the vibrancy of the entrepreneurial spirit among Filipinos.

With deep sense of pride and honor, I am pleased to know that the Philippines is now counted as among more than 130 countries that celebrate Global Entrepreneurship Week – the world's largest celebration of entrepreneurship.

Indeed, entrepreneurs are the backbone of our economy which facilitates inclusive growth through large-scale employment opportunities, revenue generation, and investments promotion.

I believe that for the Philippines to continue its growth, we need more entrepreneurs – young and old, men and women, urban and rural, rich, middle class and poor. Through entrepreneurial innovation, dedication and hard-work, we are able to move the country forward towards prosperity.

I encourage you to take part in this momentous occasion on 17-23 November 2014 and let us make the whole world know that Filipinos are world-class entrepreneurs.

Again, congratulations and Mabuhay kayong Lahat!

Jejomar C. Binay