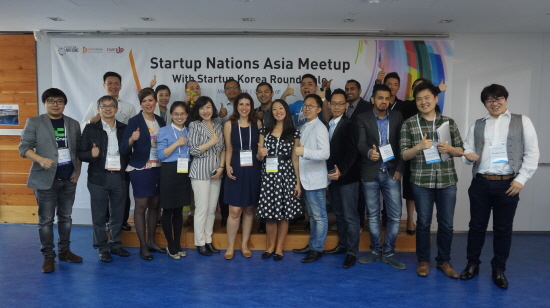 Grassroots startup community leaders from 12 Asian countries met last week in Seoul, Korea, to improve the entrepreneurship ecosystems and policy environments for startups on the continent. The Startup Nations Asia Meetup, hosted by Startup Korea and D.CAMP, a startup hub founded by the Banks Foundation for Young Entrepreneurs, was a preparatory gathering for the Startup Nations Summit in Seoul during Global Entrepreneurship Week.
Participants explored synergies and collaboration opportunities – particularly related to community building, funding, public-private partnerships and improvements in entrepreneurship education. They represented the following organizations: Ciputra Foundation in Indonesia; Startup Malaysia; YES (Young Entrepreneur Society) Philippines and EFG (Entrepreneurship Foundation for Graduates) China, who both represent the Startup Nations and GEW movements in their countries; Startup Vietnam, Startup Weekend Japan, Technode China, Cyberport Hong Kong, Moonlighting Delhi, India; Wizxpand Taiwan; Hubba Thailand; and JFDI.Asia in Singapore.
Rebeca Hwang, GEW board member and Startup Nations co-founder, delivered an overview of the Silicon Valley ecosystem. She emphasized the role of startups in building economies by giving the example of the economic impact that MIT startups, collectively worth $3 trillion, have by competing with global economies.
In collaboration with Startup Nations representatives, Naree Lee and her team at D.CAMP evaluated Asian countries based on their research relating to six core pillars: market infrastructure, regulation, financing, talent, and technology and culture.
The results of the research revealed patterns among countries throughout Asia. Singapore, Hong Kong, Malaysia and Taiwan for example, have an attractive and mature environment for starting a business whereas in Japan and Korea, technological advancements are not yet aligned with the business world. In Indonesia, the Philippines, Thailand and Vietnam, entrepreneurship is seen as a viable career path due to the optimistic culture, whereas in China and India, success stories create a hype in the ecosystem but low internet penetration remains a problem. Each group discussed potential methods of collaboration based on these common grounds, followed by group roundtable discussions with domestic actors of the Korean startup ecosystem. Discussions revolved around four main topics: community building, private sector and government cooperation, entrepreneurship education, and funding.
At the private sector and government cooperation roundtable, Jaeyoung Park from the Korean Entrepreneurship Foundation (a member of Startup Korea and the GEW Korea host organization) shared his organization's research and policy initiatives in collaboration with various entities of the South Korean government, which promotes its startup economy by funding startups and offering tax breaks for large companies that invest in startups.
One of the outcomes of the discussion was to put more emphasis on scale ups, a plan that was also agreed upon during discussions at the GEW Europe Meetup earlier this month.
Originally posted on Global Entrepreneurship Week, http://www.gew.co