Human Resource, Technology and Venture Business combine at the ASEAN HR Tech Venture SummitThe ASEAN HR Tech Venture Summit is set to be held on October 18-19 at Shangri-La at the Fort, Bonifacio Global City. The event will gather ASEAN business leaders, movers, and shakers to discuss the gaps between HR and technology, insights on the current human capital trends and more.
Aside from covering topics on HR Technology, this year's summit will also discuss points on Venture Business, making this conference the first of its kind to delve into this subject. The conference will feature 5 themed tracks: Technology, Legal, M&A and Venture Business, and Corporate Brand for CEOs.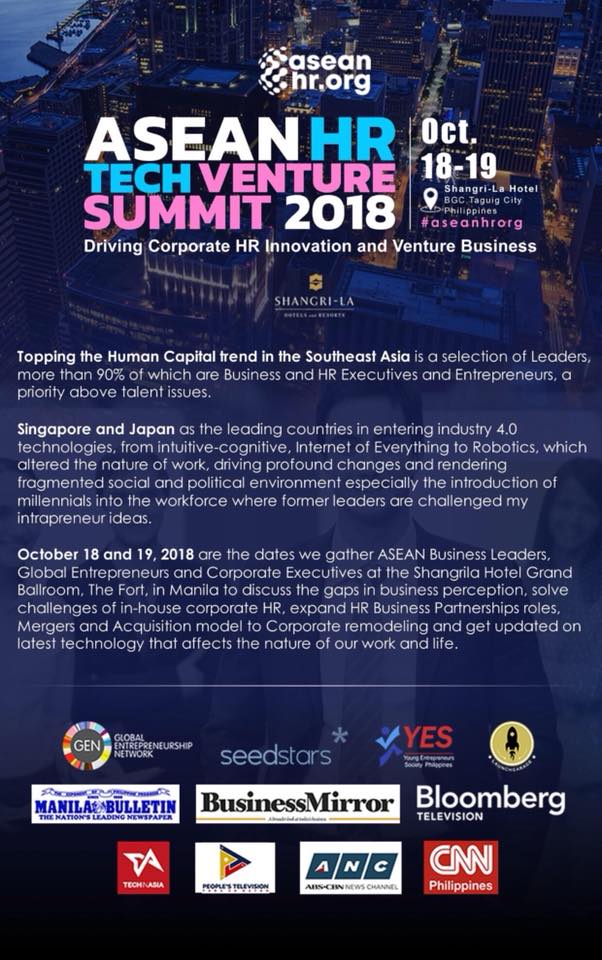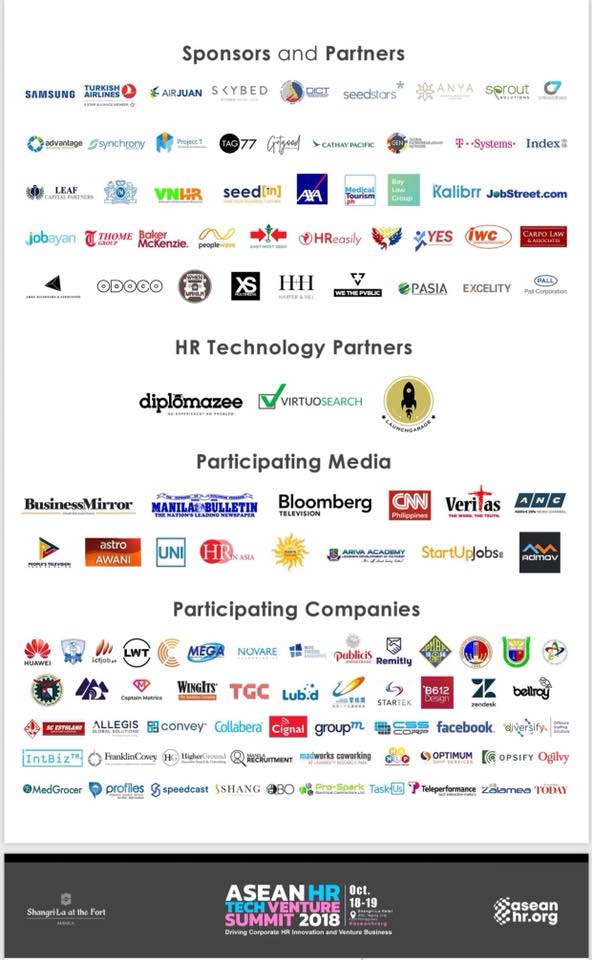 Highlights of the summit will include a comprehensive update on   the state of HR in the Philippines and other Southeast Asian nations, including how technology is being adopted into the process. Other highlights focus on the shift of HR from traditional to agile, a case study on the failure of a Merger and how Corporate HR can drive a successful post-merger integration, and more.
The ASEAN HR Tech Venture Summit will be graced by speakers and a panel of global entrepreneurs, business leaders and corporate from all over the world. Tagcash Founder, Mark Vernon will be joining as one of the event speakers, with over 30 years of experience as a Serial Tech Entrepreneur, Vernon has become an Angel Investor to multiple startups in the Philippines. Other speakers include Sharon Lee of HReasily, Srikanth Chandrashekhar of Pall Corporation, Paul Rivera of Kalibrr, and over 30 other speakers and panelists with expertise in the field.
The summit is a 2-day event that is be filled with learnings and insights straight from industry leaders. For more information, the full list of speakers and panelists, and to purchase tickets for the ASEAN HR Tech Venture Summit, visit https://aseanhr.org/event/asean-hr-tech-venture-summit-2018/.
The ASEAN HR Tech Venture Summit 2018 is presented by ASEANHR.org, with support of Project T, WhenInManila, Synchrony Global and Harper and Hill.